VITAL IN PRINT
The Winter 2014 print issue is out, with great stories about farming & conservation, Mission Greenfield, and more. Not a subscriber? Click here to sign up. It's FREE.
STORY SNAPSHOTS
2 WAYS TO SUBSCRIBE

Grab the RSS feed to stay in the loop as new stories are posted online.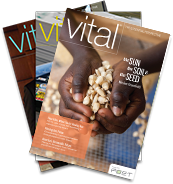 Sign up to receive the FREE quarterly print edition in your mailbox.